Pastora Irani is visiting the school supported by ACD. Children are using the new seats and tables, looking interested to the teacher, who explains word-division.
Clergy Irani is surprised about the girls explanation ..
Having break the children can play and ran on the playground, here we see Clergy Irani between them.
Clergy Irani and Claudia Cruz   –   preparation of the classroom for the next schoolday.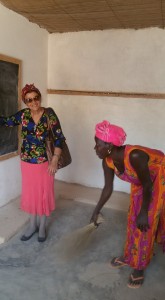 Clergy Irani speaking to a girl who is learning at the project supported by ACD :
Clergy Irani is satisfight, that the project is going on so well. But there are also doubts, if there will be enough donations to continue and give more children the tools to take life in their own hands.
     .children at gym-classes …