Now the feast of indian-corn and Irani´s birthday is over. We had a very nice meeting, with a lot of nice friends and we felt that the Lord was with us.  "When 2 or 3 come together I am between them !" are the words of god. We could feel the spiritual coherence and were very happy to be together. We listened to the words of Matthew 25:31-46 …" I was thursty and you gave me water ".  Afterwards we thanked the Lord for everything He gives us and for His love to us.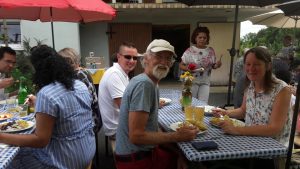 Irani and her helpers prepared a lot of delicious things of indian-corn. Brazilian dishes and Styrian dishes, sweet and spicy.
Irani with her bithday-cake:
We could sit to gether and make conversation, sing and listen to the songs that some of our members performed. It was a very nice afternoon and we clould feel that the graciousness of our Lord was with us.
See the invitation we sent to the members of ACD-kinderhilfe and other friends:
This is the feast where Indian Corn is offered in all kinds of meals – sweet, sauer, salty, spicy – on the same day we also congratulate Irani to her birthday.
Come and join us,
11th of August  at  1p.m.   at the house of Irani
Krottenberg 3   – St. Stefan/Rosental
To be able to taste all the delicious things made of Indian Corn You only have to pay   15,00 Euros per person.
We will sit together, have fun, sing,  praise the Lord and thank him for all the good things He gives to us !!
The mony earned during the feast will be used in the projects of ACD-kinderhilfe in Afrika and Brazil.
"O, Lord, we praise You and implore You to give us strenghts for leading Your creation how You want us to do it. Strenghten our faith and and let us not fall in despair, when we break down when feeling that You does not want to give us yet what You have prepared for us since the beginning. You determines the hour and place to give and we have to wait. Sometimes we are angry about, but than we see that things are not necessary for our increment in faith and love to You and therefore it is not important to get ist.. We thank You that You give much more than we beg for and merit, and we are grateful therefore. You know about our faers and doubts. You help us in our weakness. We recognize that not to fall is important, but the standing up, again and again. In this standing up, o Lord, strenghten us !!! That we can get up after falling down and confess: Lord, You are our Master, our Refuge, our Leader, take us and use us in Your way, we are Your servants!"