Last Saturday men of Graz-Austria participated in the congress with clergy Romualdo Franco at Volksmission Rosengasse.
Clergy Romualdo: " I am very glad to have fulfilled one more step of the mission that I am allowed to make in company with clergy Irani Marbler. I thank our Lord for this chance and for all the benefits He provides in my life".
Children sang and danced to worship our Lord: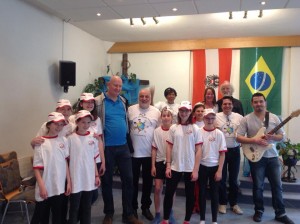 Some of the participants:
Clergy Irani and  clergy Romualdo:
Some notes –  what happened before the event:
Clergy Romualdo had already arrived in Austria and sends the following words to the  Christian community :
In the bible we can read: And Jesus kept increasing in wisdom and stature, and in favor with God and men. (Luke 2:52) Therefore we also have to increase in wisdom and spiritually to receive the grace of the Lord and God´s blessing and to be in united with our sisters and brothers.